i'm so excited to turn junk into something great. the possibility, the creativity, the joy of transformation! usually, i think of junk as old stuff, but today i turned some brand new junk into a beautiful thing that looks old!
i went and bought a lovely new casual cowboy hat made out of palm leaves. it's soft and fun and will shield my face nicely from the sun while i'm out at the oklahoma city festival of the arts tomorrow. while the nice man was shaping the hat for me, i saw a hat pin with possibility.
this is almost exactly what it looked like before, but it had a plain border and different background engraving. i loved the shape, simple detailing and the TEXAS (i can't ever let these okies forget i'm from texas. i'm a pill like that!) of it, but the bling/flashy-cowboy factor was WAY too high for me. i wanted funky, not farmy! i knew right away what i wanted to do with it: finally get some practice with the paint and glaze technique i learned at
all things thrifty
.
step one:
prime both sides with kilz. supposed to be two thin coats, but i know the back came out a little thicker than expected. i was surprised by how fast the paint shot out! i let each coat dry about 15 minutes.
step two:
three very thin coats of krylon's indoor/outdoor paint in bahama sea (which by the way came out MUCH lighter than the top of the can would indicate, fyi.) the awesome part was that the instructions say you only have to wait 1 minute between coats, which made this project go much faster than i thought it might! after all coats were done, i let it dry 2-3 hours. probably could/should have waited longer, but i wanted to wear the pin tomorrow afternoon!
step 3:
using a 220 grit 3M™ SandBlaster™ Flexible Finishing Pad, very lightly sand the edges and high points of the pin. by going slowly and lightly, you can remove only the krylon, and the white of the kilz shows through. i like this look, and prefer it to the idea of the gold border showing through.
step 4:
GLAZE, baby!
all things thrifty
recommends ralph lauren, but i could only find it at HD and only in a gallon size for $30. i was not ready to make that kind of financial commitment so i went to lowe's. they had a valspar glaze in a smaller can and as
brooke
recommends, i had it tinted black.
with a paintbrush, i applied a very very very tiny (i cannot express how tiny!) amount of the glaze all over the pin. then using a damp cloth (an old tshirt for example), i wiped away some of the glaze. i repeated this process 2 or three times until i had a result that i liked.
it's a pin that looks worn around the edges, and as if age has been getting into the detail for quite some time.
and here's what it looks like on my new hat! i can't wait to wear it tomorrow!
:)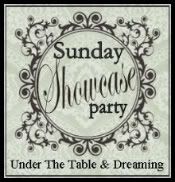 just posted this project at stephanie's sunday showcase. you should head over there too!